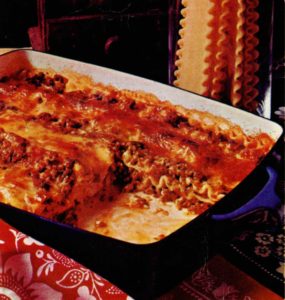 Nothing says warm, comfort food like a lasagna dinner.  Serve with a green salad and toasted Italian bread.
Lasagna
Ingredients:
1 pound ground beef
½ pound ground lean pork
1 can (28 oz.) diced tomatoes
1 can (12 oz.) tomato paste
2 tsp. garlic salt
1-1/2 tsp. oregano leaves
1 tsp. basil leaves
2 cups ricotta cheese
½ cup grated Parmesan cheese
12 oz. shredded mozzarella cheese
12 oz. lasagna noodles, cooked and well-drained
½ cup grated Parmesan cheese
Directions:
In a Dutch oven or large pan, cook and stir meats until brown.  Drain.  Add tomatoes, tomato paste, garlic salt, oregano leaves, and basil leaves.  Heat to boiling, stirring occasionally.  Reduce heat; simmer uncovered 20 minutes or until mixture is the consistency of spaghetti sauce.
Heat oven to 350 degrees.  Stir together ricotta cheese and ½ cup Parmesan cheese.  Set aside 1 cup of the meat sauce and ½ cup of the mozzarella cheese.  In an ungreased baking pan, 13 x 9 x 2 inches, alternate layers of 1/3 each noodles, remaining meat sauce, remaining mozzarella cheese and the ricotta cheese mixture.
Spread reserved meat sauce over top; sprinkle with ½ cup Parmesan cheese.  Sprinkle reserved mozzarella cheese across lasagna.
Bake uncovered 45 minutes.  Let stand 15 minutes before cutting.
Enjoy!
Stay tuned for the next historical post on February 1st!