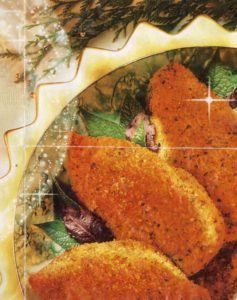 This is a delicious and surprisingly easy chicken entree that can be prepared ahead and assembled right before baking.  Also, the baking time is shortened with baking at 400 degrees.  The entree works well with a variety of side dishes, from rice to pasta to vegetables.
Parmesan Chicken Breasts
Ingredients:
3 boneless, skinless chicken breast halves
2 Tbsp. butter or margarine, melted
½ cup grated Parmesan cheese
¼ cup dry bread crumbs
1 tsp. each dried oregano leaves and parsley flakes
¼ tsp. each paprika, salt, and black pepper
Directions:
Heat oven to 400 degrees.
Spray a baking pan or dish with non-stick cooking spray.
Cut the "chicken tender" from the breast. Cut the remaining breast laterally to produce two thinner pieces. This will result in 9 pieces if 3 breasts are used initially.
One at a time, place each piece between parchment paper or plastic wrap and gently pound with a meat tenderizer to flatten the chicken.
Combine the Parmesan cheese, bread crumbs, and spices in a large bowl.
Dip chicken in butter, then coat in the dry mixture. Place pieces in the prepared pan or dish.
Bake 25-30 minutes or until tender. If the pieces are very thin, bake 20-25 minutes.
Note: I use Italian seasoned bread crumbs. I usually double the butter and the dry mixture amounts to have plenty to cover the chicken. Leftover dry mixture can be sprinkled over the chicken before baking.
Enjoy!
Stay tuned for the next historical post on June 1st.