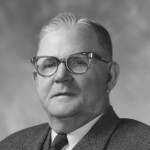 Archibel "Archie" Elledge was born in 1897, in Wilkes County, to Joseph A. and Margaret Elledge.
Archie spent his early life in Wilkes County, and he was a graduate of Wake Forest College and its law school.  He came to Winston-Salem in 1918.
Elledge was well-known for his long tenure as an alderman.  He was first elected in 1951, and served for 15 years.  He took a conservative stance in politics, and dubbed himself the "watchdog" of the city treasury.  He was an economic conservative, and he didn't like high taxes and he didn't like heavy government spending.
For most of his years as an alderman, he represented the old South Salem Ward.
Elledge was largely responsible for a city ordinance that required all Board of Aldermen meetings be open to the public.  And, he was responsible for a procedural regulation that required that all aldermen be informed  at least 36 hours before a meeting of any business that will be transacted at the meeting.
Elledge was married to Nellie Pratt Elledge.  He passed away in 1966.
The Archie Elledge Wastewater Treatment Plant was named in his memory.
Photo courtesy of Forsyth County Public Library Photograph Collection.