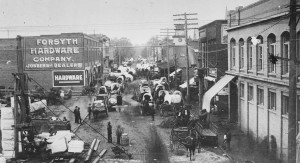 On this day in 1905, a new business venture called Forsyth Hardware Company opened on North Trade Street.  Forsyth Hardware Company is a successor to the Hooper-Brooks Company.  Members of the new firm are Edward C. Jones, A. C. Miller, and P. A. Miller Jr.
The business can be seen at the left in the above photo, dated about 1906.  The photo was taken from West Fourth Street looking north on Trade Street.
The construction underway at the far left corner of the photo is for the Masonic Temple.  Piedmont Tobacco Warehouse was recently demolished at this site, and the business was moved farther north on Trade Street.
Across the street from the Forsyth Hardware Company was located the H. D. Poindexter Company, another hardware store.
The tobacco trade brought all kinds of business to the city, and farmers who came to town could certainly spend some of their tobacco earnings at a good hardware store.  In fact, a hardware store could supply everything from overalls and shoes, to plows and seeds.
In 1915 Forsyth Hardware moved to 433 North Trade Street.  The president at this time was J. L. Rodwell, who had worked at the store in its previous location.
Photo courtesy of Forsyth County Public Library Photograph Collection.