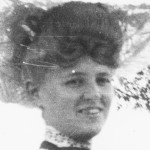 Hattie Blanche Thomas Sumner Hege was born on this day in 1873,  in Salem, to H. Clay and Carrie Butner Thomas.
Blanche and her family lived for a while in Thomasville.  She was the granddaughter of the founder of Thomasville.
She returned to Salem when she attended Salem Female Academy, and graduated in 1891.
After graduation from Salem Female Academy, she returned to Thomasville and taught school at the Thomasville Orphanage.
She was married first to Thomas D. Sumner and second to Walter J. Hege.
Her first husband died, and she remarried in 1906.  At this time she moved to Salem where she taught Sunday School and sang in the choir at Home Moravian Church.
When she passed away in 1963, she was one of the oldest living Salem College alumni, and she was one of the oldest members of Home Moravian Church.
Photo courtesy of Forsyth County Public Library Photograph Collection.