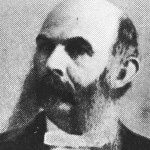 Albert Burrow Gorrell was born in Guilford County in 1840.  He graduated from the University of North Carolina, then enlisted as a private in the North Carolina Regiment Infantry, Company D.  He worked in the commissary and quartermaster departments, then was promoted to commander of the Sharpshooters of the 57th Regiment.  In 1865 he was severely wounded by a minie ball.
After the war, he worked on a farm near Winston, then came to Clemmonsville where he taught school for eighteen months.  He also taught school in Winston for two years, then went into the merchantile business with Peter A. Wilson Sr.  They were in business for three years, then Gorrell sold out his business to Wilson.
In 1872 Gorrell formed a partnership with Major T. J. Brown, and the two conducted Brown's Tobacco Warehouse for two years.  Gorrell and Richmond capitalists built the Farmer's warehouse, which Gorrell ran and later was joined in the management by his son, Robert Gorrell.
Colonel Gorrell was the first captain of the Winston Military Company which was organized in 1887.
He was appointed Chief Marshall for the State Fair for 1879-1880.
Colonel Gorrell served as president of the Piedmont Tobacco Fair, which was organized in 1897.  The object of the organization was to call the attention of the world to the superior tobacco and the growing tobacco market.
Colonel Gorrell served six years as alderman, and six years as city commissioner, and was elected mayor three times, dying in office in 1898.  The James B. Gordon Chapter of the Daughters of the Confederacy furnished a room at the Soldier's Home in Raleigh, in honor of Col. A. B. Gorrell.
Photo courtesy of Forsyth County Public Library Photograph Collection.