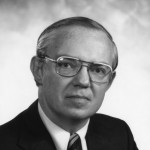 Robert Follin Armfield was born on this day in 1935, in Winston-Salem, to Wyatt A. and Lucy Reynolds Follin Armfield.
He attended Woodberry Forest School, and graduated from R. J. Reynolds High School and Davidson College.
He began his business career with First National Bank of Winston-Salem and worked as a financial advisor for 40 years.  He retired as Vice-President –  Wealth Management with Smith Barney.
Bob was active in community organizations.   He was president of the Twin City Kiwanis Club and the Winston-Salem Sales and Marketing Executives.
Bob passed away in 2013.
Photo courtesy of Forsyth County Public Library Photograph Collection.