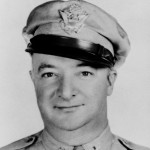 Linville Kerr Martin was born in Winston-Salem on this day in 1896, to Frank A. and Eva Hendren Martin.
He was educated in the public schools, then went to work for the Virginia-Carolina Chemical Company.  He studied at Trinity College, where he was a star basketball player.
Martin, nicknamed "Hip," enlisted in the Army in 1917 and served until the end of the war and through a period of occupation.  Then, he resumed his studies at Trinity and graduated with his law degree in 1920.  He joined the law firm of Manly, Hendren and Womble.
Martin was an organizer and one of the first presidents of the Junior Bar Association in Winston-Salem, and was president of the Forsyth County Bar Association in 1930.  He was president of the North Carolina Bar Association in 1942.
In August 1942, he joined the Air Force (after losing 42 pounds to reach the weight limit) and attained the rank of full colonel.
Martin was a member and past president of the Winston-Salem Lions Club.
At the time of his death in 1954, Martin was a senior partner in the law firm of Womble, Carlyle, Martin and Sandridge.
Photo courtesy of Forsyth County Public Library Photograph Collection.