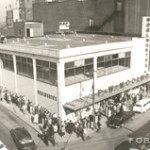 On this day in 1954, Woolworth announced plans to purchase and renovate the half block around Forsyth Theatre, on West Fourth Street, to build its second store in the city.  The first store was located on Liberty Street.
Three smaller stores and a theatre will be removed to make way for the Woolworth establishment.  The space was occupied by Forsyth Theatre, W. T. Vogler and Sons Jewelry, L. Roberts, and the Guild House.  L. Roberts announced plans to move across the street, next to J. C. Penney.
W. T. Vogler also moved across the street, and the Guild House moved to the corner of Marshall and Fourth Streets.
The new store opened in 1955.  The photo shows the completed building at the corner of Fourth and Spruce Streets in 1956.  The people in line at the front and side of the store are waiting to see a movie at the Carolina Theatre, located beside Woolworth.
Photo courtesy of Forsyth County Public Library Photograph Collection.