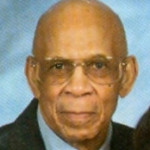 Shelton "Cosmo" Penn was born on this day in 1925, in Forsyth County, to James and Flavella Penn.
Shelton graduated from Atkins High School in 1942.  He enrolled in Morehouse College in Atlanta, and was drafted into the United States Army during World War II.  He was a gunner with a field artillery outfit.
After he served in the Army, in Naples, Italy, he returned to Morehouse College and graduated in 1948.   He earned his law degree from the University of Michigan in 1951, and was in private law practice  from 1952 to 1975 in Battle Creek, Michigan.  He also served as  District Judge and Chief Judge of the 10th District.
He married Sadie Saunders in 1965.  Judge Penn retired in 1990, and he and his wife relocated to Arizona.  They lived there until his death in 2009.
Judge Penn served in many organizations and received several awards and recognitions.  He was inducted into the National Bar Association Hall of Fame in 1993.