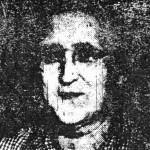 Elsie Baker Flake was born on this day in 1888, in Winston-Salem, to James Anderson and Nannie Jane Baker.
Shortly after World War I, Elsie started Flake's Sandwich Shop in her home on Lexington Road.  About a year later, she moved her business to the City Market. The sandwich business began as a wholesale operation, then became a retail operation.  She retired from the business about 1946.
Elsie was one of the founders, and served as secretary, of the Winston-Salem Restaurant Association. The State Magazine recognized her as one of the outstanding women of North Carolina for 1938.
Elsie was also active in local organizations and politics. She served in the local and state organizations of the Business and Professional Women's Club, the Altrusa Club, and the Women's Club.
Elsie ran unsuccessfully as a candidate for the House of Representatives in 1942.
She was a member of Friendship Baptist Church.  She married William Franklin Flake in 1914, and she passed away in 1951.