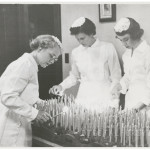 Brother Johann Michael Graff and his wife Gertraut came to Wachovia in 1762 to be in charge of the Married Couples Choir.  He brought with him a small pipe organ from Bethlehem, Pennsylvania.  The organ was played during a service in July of that year.  This was the first service that featured an organ.
Brother Graff also held the first Christmas Eve candle services in Wachovia on this day in 1762.   He gave a lighted candle to each child in a lovefeast service.  One service was held for the children in Bethania, and another service was held for the children in Bethabara.
This custom began in Marienborn in Germany in 1747, and spread to Moravian congregations throughout the world.
The candlelight service was expanded to include adults in 1907, and this tradition began in Salem at Home Moravian Church.
The Christmas Eve candlelight lovefeast is a treasured tradition in Winston-Salem, celebrated in Moravian churches several times during the Christmas season.  Moravians and non-Moravians attend this reverent service which features music, scripture, fellowship and a Christmas message.
The photo above shows the Christmas Eve candlelight service at Calvary Moravian Church in 1957.  The women are lighting the Moravian candles.
See more lovefeast service photos at www.digitalforsyth.org with the term: lovefeast.
Photo courtesy of Forsyth County Public Library Photograph Collection.