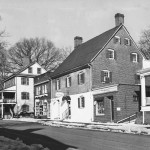 Winkler Bakery is a must-stop during a visit to Old Salem.
The Single Brothers operated the first bakery in the workshop behind their house.  In 1800, the shop on Main Street was built for Thomas Butner, the new master baker.  The bakery business was taken over by Christian Winkler in 1807.
It was operated by the Winkler family until it was sold in 1927.  The sale was announced in the newspaper on this day in 1927.
Mr. and Mrs. R. C. Spaugh sold the property to Mr. and Mrs. Frank Urband for a consideration of $25,000.
Today the Winkler Bakery still operates on Main Street, sending delicious fragrances throughout Old Salem.
Photo courtesy of Forsyth County Public Library Photograph Collection.