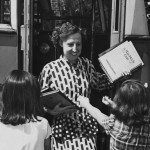 Mae Kreeger Tillman was born on this day in 1908, in Forsyth County, to Eugene and Cora Brewer Kreeger.
She was a graduate of R. J. Reynolds High School and Salem College.  She also took extension courses at Salem College.  She received her B. A. degree in Library Science from the University of North Carolina.
Mae worked in the library at R. J. Reynolds High School when she was a student.  She was also a student library assistant at Salem College.
Mae was appointed assistant librarian at R. J. Reynolds High School in 1933, and became head librarian in 1942.
She joined the staff of the public library in the District of Columbia in 1944, and became the supervisor of the circulation desk at the Georgetown branch later that year.
Mae was hired to work at the Carnegie Library in Winston-Salem in 1946 and she worked there for many years.
Mae married Henry Richard Tillman in 1951.  She passed away in 2001.
The photo above shows Mae delivering books to children during the polio epidemic in 1948.
Photo courtesy of Forsyth County Public Library Photograph Collection.