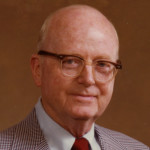 Leon Leftwich Rice Jr. was born on this day in 1912, in South Carolina, to Leon L. and Sara Wilhite Rice.
He spent his early years in South Carolina, and graduated from Furman University.  He earned his law degree from Duke University in 1936.
After graduation, he joined his father's law firm, and he also worked for the agency that was the predecessor to the Internal Revenue Service.
Leon moved to Winston-Salem in 1940 and joined the law firm of Manly, Hendren, and Womble.  This firm became Womble Carlyle Sandridge and Rice, North Carolina's largest law firm.
Leon was an expert in taxation law, and was the author of a tax handbook.  He also was a contributor to several tax law publications.
Leon was a member of the Wake Forest University Board of Trustees, and he helped found Knollwood Baptist Church.  He was also chapter chairman of the American Red Cross and held several other offices in community organizations.
He was married to Ethel Ford Jones Rice.  When he passed away in 1987, Leon was the last name partner of the law firm.  In 1986, he marked his 50th year as a lawyer.
Photo courtesy of Forsyth County Public Library Photograph Collection.