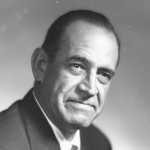 Thomas Dallas Coppedge Sr. was born on this day in 1908, in Raleigh, to G. B. and Mary Wiggins Coppedge.
He spent his early life in Raleigh and attended the local schools.
He was employed by the Durham Herald-Sun newspaper as assistant circulation and promotion manager from 1929 to 1938.  He joined the Winston-Salem Journal & Sentinel as promotion manager.
Thomas joined the American Red Cross during World War II and served as club director in many countries.  He returned home at the end of the war and opened a photo-finishing plant.
He and his brother-in-law, Charles Talton, opened a full-time commercial and portrait studio.  Talton's later became a color lab.
Thomas attended Winona School of Photography to further his skills in both commercial and portrait photography.  This was the beginning of Coppedge Studio.
During his time in business, Thomas photographed brides and weddings, babies, families, business men and women, people in the legal and medical professions, judges, and travelers (for passports).  He also photographed accident sites for insurance companies, display windows and stores for retailers, and made copies of treasured photographs.
Thomas' wife, Lucy Talton Coppedge, assisted her husband in the photography business.  Their son, Thomas D. Coppedge Jr., worked with his parents in the business as photographer.
Thomas Sr. passed away in 1986.  His son continued the business until he closed the business due to his poor health.
When the business closed in the early 1990s, Linda Weaver purchased the image negatives from the studio.  She kept them about 10 years, then donated the negatives to the Forsyth County Public Library, where they currently reside.  Inquiries about the Coppedge Collection can be directed to Molly Rawls at 336-703-3072 or rawlsmg@forsyth.cc.
Photo courtesy of Forsyth County Public Library Photograph Collection.