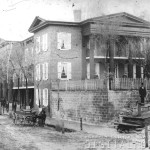 On this day in 1901, the Belo Home Women's Exchange opened.
The object of the exchange was to furnish an opportunity for women to sell their handiwork, much of which was accomplished in their spare time.
An annual membership fee of 50-cents and 5-cents on all sales, went to the Belo Home to defray running expenses and the cost of fitting up the room.
Some of the items available for sale were preserves, jams, jellies, hand-painted china, paintings, handiwork, and cakes to name just a few.
The exchange was to be open from 2 to 5 on Saturday, until patronage warranted its being open more hours.
The photo above shows the Belo Home.
Photo courtesy of Forsyth County Public Library Photograph Collection.