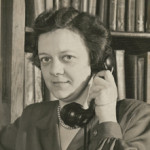 Jeannette Graham Trotter was born on this day in 1909, in Surry County, to Pinkney Lawson and Mattie Fulk Trotter.
She graduated from Woman's College in Greensboro.
Jeannette joined the staff of the Winston-Salem Carnegie Library as assistant librarian in 1944.  She was previously a cataloger at Reynolds High School Library.  In 1946, she succeeded Janet Berkeley as librarian.
Miss Trotter served in this position until 1951.  At that time, Paul Ballance was hired as Library Director, and Jeannette became Assistant Library Director.  She served in this capacity until her retirement in 1973.
During the years that Miss Trotter was librarian, the library purchased and installed a charging machine to replace the system of handwriting the borrower's name on the book card of each book borrowed.
Also, a branch library unit, or deposit collection, opened in Kernersville in a store owned by W. S. Linville.
Another large happening in 1949 was the purchase of a bookmobile for the library.
Throughout her time as librarian, Miss Trotter was faced with a growing library collection and a growing need for a larger library.    Richard J. Reynolds Jr. donated property on West Fifth Street for a new library, and newspaperman Paxton Davis wrote a series of articles about the deplorable conditions at the current library, as compared to other libraries in the state.
Miss Trotter saw her dream of a new and larger library come to fruition in 1953.  She worked in the new library for 20 years and saw even greater changes throughout these years.  She retired shortly before renovations were made to the Main Library in 1975, and before an addition was made to the Main Library in 1980.
Miss Trotter passed away in 2005.
Photo courtesy of Forsyth County Public Library Photograph Collection.