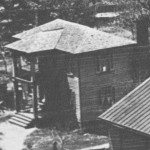 There was a time when sick people were treated in their homes, where doctors came to them and administered medical care.  For many people, this style of care worked well.
The doctors, however,  were often appalled by the dirty and unsanitary living conditions of some of their patients.
Ministers were also aware of the poor living conditions.  Reverend Harry O. Lacy, rector of St. Paul's Episcopal Church, planted the idea of establishing a hospital in Winston in the summer of 1887.
During that summer, Mrs. James A. Gray hosted a tea attended by a group of women at the home of Dr. Henry Bahnson.  They formed the Ladies' Twin-City Hospital Association to begin plans for raising money for and building a hospital.
The women worked quickly and rented the Martin Grogan house at 236 North Liberty Street.  There were 10 beds for patients and the charge was $5.00 per week, if the patient could afford it.  The Twin-City Hospital opened on this day in 1887.
The hospital was operated in the beginning by money saved from the household funds and donated by the women.  Later, they raised money from business leaders, and the mayors of Winston and Salem were asked to give $12.00 per month.  By February 1891 the structure was completely outgrown and was badly in need of repair.  The women appealed to the people of both towns by showing how the money was used and how many people had been helped.  The public appeal resulted in support for building a new hospital, to cost $5,000.
Photo courtesy of Forsyth County Public Library Photograph Collection.