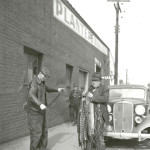 J. G. Flynt announced in the Winston-Salem Journal on this day in 1920 that he plans to build a new tobacco warehouse.
The new warehouse will be named Planters' Tobacco Warehouse, and it will be built on North Trade Street, going through the block to Oak Street.
J. G. Flynt was formerly associated with the J. G. Flynt Tobacco Company, which he sold in November 1919.
The above photo was taken in 1939.
Photo courtesy of Forsyth County Public Library Photograph Collection.