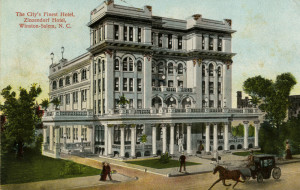 On this day in 1906, the new Zinzendorf Hotel opened on Main Street.
After the original Zinzendorf Hotel burned in 1892, there was a hope that another hotel could be built.  In 1905, some of the same shareholders formed the Forsyth Hotel Corporation and announced a new "Forsyth Hotel" to be built on Main Street near Third.
The new 6-story hotel, also named Zinzendorf,  had 120 rooms, a lobby, dining room, ballroom, and other public spaces.
The lobby, described as "large, lofty, and well-lighted," featured terrazzo floors.  Off the lobby to the left was a reading room, with a writing room to the right, all furnished with oak furniture of English design.
The hotel was enlarged in 1917, and it closed in 1970.
Postcard courtesy of Molly Grogan Rawls.