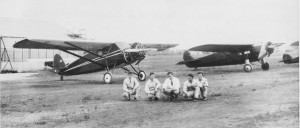 Winston-Salem's first airfield was named Maynard Field.  It was home to air shows and derbies and many young pilots learned to fly in the field beside the Kernersville Road.
But city officials were already looking for a new airport site when Colonel Charles Lindbergh announced that he would visit Winston-Salem on his Goodwill Tour.  Maynard Field was too small and ill equipped to receive the growing air traffic and to keep Winston-Salem in the forefront among the flying classes.
In 1927, the Board of Commissioners located 75 to 100 acres of land adjacent to the Walkertown Road, currently occupied by the Forsyth County Farm.  Its favorable location made it a popular choice, since it was close to downtown.  But the farm superintendent protested – calling it the best corn-growing land in the county.
Mayor Tom Barber approved the decision and local citizen Clint Miller pledged $17,000 to develop and equip the new airport.  On July 15, 1927, an Airport Commission and an Airport Corporation were created.  At the first meeting the facility was named Miller Municipal Airport after Clint Miller who gave so generously for its construction.  At that point, they had three months to build an airport.
When Charles Lindbergh stepped from the Spirit of St. Louis in October 1927, Miller Municipal Airport was officially opened.  It wasn't until almost a year later, on this day in 1928, that the airport was dedicated.
Air races, contests, and the placing of a bronze marker were among the events planned for the dedication.  Three days of heavy rains kept the visiting planes from making the trip.  Finally the weather cleared and Mayor Thomas Barber accepted the bronze marker, and the crowds were treated to the races and contests as planned, including an amateur race.
Seventeen year-old Smith Reynolds won the amateur race that day, and despite all the rain the field was in good condition.
The above photo shows Miller Municipal Airport in 1930.  The men in the photo are mechanics and H. B. Poindexter (center) who was the manager of the airport.
Photo courtesy of Forsyth County Public Library Photograph Collection.