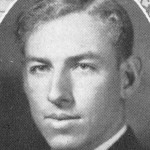 Charles Rudolph Isgett was born on this day in 1909, in South Carolina.  He came to Winston-Salem in 1920, and graduated from R. J. Reynolds High School and Scranton Business School.
In the 1930s Charles worked for three furniture plants as a supervisor.  Then, he was appointed a temporary substitute postal clerk in 1936.
He was promoted to clerk in charge, then to foreman of the mails, and assistant station superintendent before he became acting postmaster in 1961.  He was named permanent postmaster in 1963.  Isgett retired from his position in December 1974.
Isgett was the first career postal employee ever to become postmaster in Winston-Salem.
Charles was married to Hazel Everhart.  He passed away in 1975.
The photo above shows Charles Isgett as a high school senior in 1929.
Photo courtesy of Forsyth County Public Library Photograph Collection.