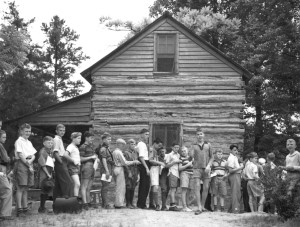 On this day in 1923, it was announced that Robert E. Lasater has bought a tract of forty-five acres.  This is the tract of land that the Boy Scout Council selected for a permanent camp.  Lasater has donated this tract to the Boy Scouts.
The farm is known as the Oscar Hege farm, and is located about eight miles from Winston-Salem.
A lake will be constructed, and cabins will be built later, but the camp will be available soon for hiking.
This camp was later named Camp Lasater.
The above photo was made at Camp Lasater in 1939.
Photo courtesy of Forsyth County Public Library Photograph Collection.