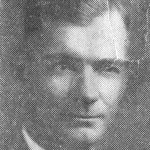 Ned Beach Smith was born on this day in 1890, in Forsyth County, to Jacob and Ida Smith.
He attended Twin City Business College and began his career with Arista Mills by working in the offices as a bookkeeper and clerk in 1915.  He headed the employment department for Arista Mills, and retired as secretary and treasurer of the company.  He worked for Arista Mills for 40 years, and served on the board of directors since 1928.
At one time, he was also treasurer and a director of the Bahnson Company.
Ned was married to Ella Morris.
He was a member of Ardmore United Methodist Church, the Rotary and Kiwanis Clubs, and the Twin City Club.
Ned passed away in 1971.
Photo courtesy of Forsyth County Public Library Photograph Collection.