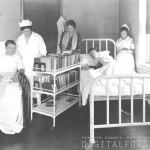 The Carnegie Library began a branch library at City Hospital on this day in 1928.
The library provided books for patrons, and were selected by the library staff.
Carnegie Librarian, Miss Janet Berkeley, the nurses and patients, are seen in the photo.  Miss Berkeley took books to patients on the rolling carts.
Photo courtesy of Forsyth County Public Library Photograph Collection.