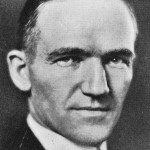 Meade Homer Willis Sr. was born on this day in 1878, in South Carolina, to James Perry and Canton Mehaffy Willis.
He grew up on a farm and attended the country schools.  He also had a personal tutor.  He worked for a while as a telegraph operator with the Southern Railway Company.  He resigned to enter Eastman's Business School in New York.
When he graduated in 1903 he came to Winston-Salem as commercial teacher in the city high school.  He organized the commercial department of the high school, and was in charge of it for two years.
In 1905 he became assistant in the bond department of the Wachovia Bank & Trust Company.  He worked in this department for eleven years, and he worked as auditor for the Winston-Salem Southbound Railroad during its construction.  In 1919 he was elected director and vice president of the bank.
During World War I he was chairman of the first Liberty Loan drive in Forsyth County.  Under the State Council he was appointed chairman of the Soldiers Business Aid Committee and served in that position in Forsyth County and other counties in North Carolina.  He was also active in the home service work of the Red Cross and was treasurer of the Red Cross war fund for Forsyth and adjoining counties.  He was also a member of the executive committee of the local Red Cross and acted as chairman of the Home Service during the rehabilitation program.
Meade was a charter member of the Rotary Club, and was active at St. Paul's Episcopal Church.
He was also an important figure in the library movement from 1917 to 1962, when he retired from the City-County Library Commission.
Meade was married first to Rosalinda Rutherford Sheppard and second to Marian Finley.  He passed away in 1967.
Photo courtesy of Forsyth County Public Library Photograph Collection.