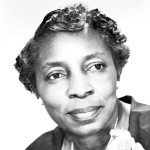 Josie White Simons was born on this day in 1905, in South Carolina, to Rev. Joseph C. and Nannie Hill White.
Josie received her A. B. degree from Benedict College and her master's degree from Teacher's College of Columbia University in New York.
Her first career choice was medicine, but the anticipated financial strain on her father during the depression changed her course of study to education.  She commented later that once she began teaching,  she really enjoyed it.
Her first teaching position was in South Carolina.  She came to Winston-Salem in 1930 and began teaching at Fourteenth Street Elementary School.  Her father was minister at First Baptist Church on Highland Avenue.
In 1963 she was transferred to Kennedy Junior High School, then moved to Cook Elementary School in 1967. Josie retired in 1970.
Josie's favorite subject was history, and she liked for her students to dress well for class.  She was known to provide clothing for her students when they needed them.
Josie was active in the First Baptist Church on Highland Avenue.  She passed away in 1973.
Photo courtesy of Forsyth County Public Library Photograph Collection.