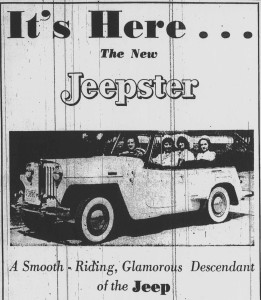 On this day in 1948, the Jeepster is on display at Bolling's Inc., Willys Sales and Service, at 130 North Marshall Street.
The vehicle is known as a sports phaeton, with no windows, curved doors, and the front end is the Jeep face.  It is the first of the light, standard-sized passenger cars to appear on the American scene.  It has a a total weight of approximately 2,500 pounds, balanced on a wheelbase of 104 inches, and carries five passengers.
The upholstered seats are trimmed in vinyl coated fabric of maroon in the yellow car and gray in the red car.
The Jeepster top can be raised or lowered easily by one person, and is made of waterproof laminated fabric.
The ad pitch is "using the same engine which powered the sturdy vehicle which carried American soldiers to the four corners of the earth, Willys-Overland has created the Jeepster, a good looking, gaily colored car with a definite sex appeal.  It's economical too – with an average gasoline consumption of approximately 29 miles per gallon at 35 mph."
The Jeepster is powered by a war-tested Jeep engine, a four-cylinder "L" head type which develops 63 horsepower at 4,000 r.p.m.  It is equipped with overdrive as standard equipment, and is capable of speeds greater than 70 miles per hour.   Price was not mentioned in the article.
Photo courtesy of Forsyth County Public Library Photograph Collection.