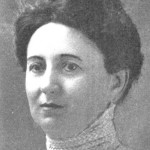 Cleone E. Hobbs was born on this day in 1872, in Clinton, North Carolina.
Cleone was a graduate of St. Luke's Hospital in Bethlehem, Pennsylvania, in the class of 1897.  She worked briefly in private duty nursing in Pennsylvania, and in executive work in New York, then she returned to North Carolina.
In 1898 she accepted the position of assistant superintendent of the Twin-City Hospital in Winston-Salem.  She held this position until 1900, and during this time she substituted for the superintendent of the hospital for four months.
Cleone worked as resident nurse at the State Normal and Industrial College in Greensboro until 1906, then she engaged in private duty nursing for two years.  Cleone worked as superintendent of nurses at the Wilson Sanatorium for two years.  From 1910 to 1918 she worked in private duty nursing in Raleigh.
In 1910 Cleone became a member of the Red Cross Nursing Service.  She worked in organization work in North Carolina, and later went into active war service for eight months at Camp Meade, Maryland.   She served on the first Red Cross State Committee from 1912 to 1918, and was chairman and secretary for part of that time.
In 1921 and 1922 Cleone attended summer school at Western Reserve University to study school hygiene.  She was the first nurse selected to serve in the rural counties under the State Board of Health.  She worked on the nursing staff of the State Board of Health for 18 years, before her retirement in 1938, and was a crusader for better health conditions in North Carolina.  She was particularly concerned about the nutritional and sanitary problems in the schools of the poor and neglected communities.
Cleone passed away in 1940.  A special "In Memoriam" article was published in "The Health Bulletin" in January, 1941, dedicated to Miss Hobbs.
Photo courtesy of Forsyth County Public Library Photograph Collection.