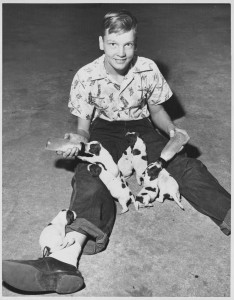 On this day in 1940, man's best friend was recognized when the Forsyth Kennel Club was organized.
The organization meeting was held at the Robert E. Lee Hotel, and officers of the club were elected.
The club was devoted to the care and betterment of dogs.  The purpose of the club was to improve the breeds of dogs and to cultivate an appreciation for the canines.
In the 1950 photo above, Jimmy Sheets has his hands (and lap) full, caring for puppies.
Photo courtesy of Forsyth County Public Library Photograph Collection.