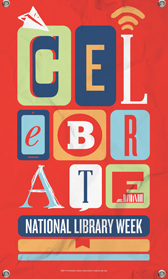 First sponsored in 1958, National Library Week is a national observance sponsored by the American Library Association (ALA) and libraries across the country each April. It is a time to celebrate the contributions of our nation's libraries and librarians and to promote library use and support. All types of libraries – school, public, academic and special – participate.
The Forsyth County Public Library opened in February 1906.  The first library was located on North Cherry Street and was built with a gift from Andrew Carnegie.  It was called the Carnegie Library and is shown below.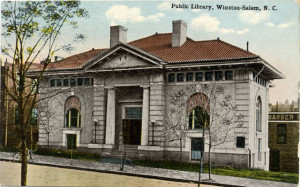 This building was used as a library until 1953, when a new public library opened on West Fifth Street. The Carnegie Library building was purchased by the Catholic Church and is still occupied by Our Lady of Fatima Catholic Chapel.
The new library was built on the site of the former home of the R. J. Reynolds family and is shown below.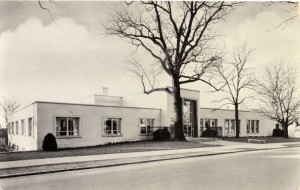 An addition was built in 1980.
The Central Library on West Fifth Street closed in October 2014 and the older, front part of the structure was demolished. The Central Library staff was disbursed throughout the library system's branches, with the North Carolina Room and Administrative staffs being housed in the Forsyth County Government Center.
Today the new library building is under construction.  The images below show the progress to date.
The image below is an architectural rendering of the new library.  The estimated completion date is Spring-Summer 2017.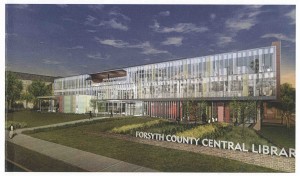 To learn about the facilities and services of the Forsyth County Public Library, visit the library's website, https://www.forsyth.cc/library.
Celebrate libraries…during this special week and every week!
All photos, except for the National Library Week poster and the library rendering, are courtesy of Molly Grogan Rawls.