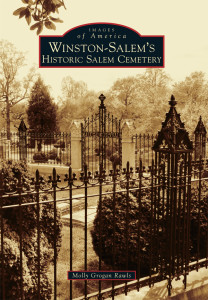 Author Molly Grogan Rawls will sign copies of her new book, Winston-Salem's Historic Salem Cemetery, at Barnes & Noble on Saturday, April 9th, from 2:00 to 4:00 pm.
The book is an illustrated profile of some of the men and women whose lives shaped the history and character of Winston-Salem, and who find eternal rest in Salem Cemetery.
Barnes & Noble Booksellers is located at 1925 Hampton Inn Court in Winston-Salem.
Several book events are scheduled that will feature presentations about the book and other book signings.  Here is a list of the scheduled events, all of which are free and open to the public:
Monday, May 9
Talk to Lewisville Historical Society, Lewisville Library, 6490 Shallowford Road, Lewisville, 6:30 pm.
Tuesday, May 17
Talk at New Winston Museum, 713 S. Marshall Street, 5:30 pm.
Saturday, May 21
Book signing at Spring Festival in Old Salem, Moravian Book & Gift Shop, 614 S. Main Street, 10:00 am. – 3:00 pm.
Tuesday, June 7
Talk to Forsyth County Genealogy Society, Reynolda Manor Library, 2839 Fairlawn Road, 6:30 pm.
Where to Buy Books?
Barnes & Noble Booksellers, 1925 Hampton Inn Court
Bo-Ty Florist, 3002 Trenwest Drive
Camel City News & Gifts, 533 N. Spring Street
Cricket's Nest Craft Shop, 4401 Country Club Road
House of Plants, 507 Harvey Street
Lewisville Drug Company, 6715 Shallowford Road
Mast General Store, 516 N. Trade Street
Moravian Book & Gift Shop, 614 S. Main Street
Old Salem Visitor Center, 900 Old Salem Road
Walgreen Drug Store, 2795 Lewisville-Clemmons Road and 3634 Reynolda Road
Books can also be purchased from the author.
For an ongoing, up-to-date list of events and book locations, check the website at www.mollygroganrawls.com.