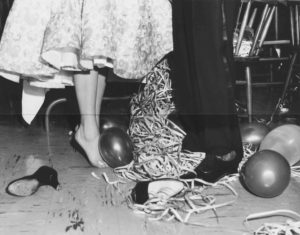 Happy 2018 greetings!
After all of the holiday activities, including a festive New Year's Eve, we're ready to start off 2018 with a preview of what's to come in 2018 on the Winston-Salem Time Traveler website.
We'll continue to look at people, places, and events that constitute Winston-Salem's and Forsyth County's history.  Some new features for the website will be stories and photos under the categories of "Tales from the Attic," "Notable Visitors," "Twin-City Profiles," and "Flashback to 1918."
Here's a quick look at what's coming in 2018.
"Tales from the Attic" are stories that usually accompany a "find," such as the scrapbook pages that are featured in the upcoming January 15th post.  Stories are just waiting to be discovered in these "finds," and all will be revealed in the stories that accompany the feature.
"Notable Visitors" shines the spotlight on people who came to Winston-Salem for a variety of reasons.  Some left their marks on the city and its people, while others came and went with little notice.  Some of these visitors are easily recognized by name or appearance, while others are not as readily recognized.
"Twin-City Profiles" is similar to the "Happy Birthday" series that ran every day in 2014.  The difference in the categories is that these people may not necessarily be celebrating a birthday on that day, and they have not been profiled before.  This feature will show and tell about the men and women who had a part in shaping the city's history.
"Flashback to 1918" will feature events, people, and places from 100 years ago.  The year of 1918 was full of red-letter events.  We lost some of our outstanding leaders, battled the flu, felt the effects of World War I, and continued to grow in business and industry.  This category will include many "Then & Now" stories, using "then" images from 1918.
Sprinkled in the mix will be features such as "Postcard Greetings," "Road Trip," "Can You Identify," and "A Taste of Winston-Salem: Recipes."
Thank you for following the Winston-Salem Time Traveler website and I look forward to traveling with you in 2018!
Black and white photograph courtesy of Forsyth County Public Library Photograph Collection.
Stay tuned for the next historical post on January 15th: Tales from the Attic: New Home on N. Hawthorne Road.