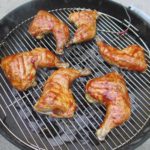 Picnic Barbecued Chicken
Ingredients:
2 cloves garlic, crushed
2 tsp. butter or margarine, melted
1 cup ketchup
¾ cup chili sauce
¼ cup firmly packed brown sugar
1 Tbsp. celery seeds
1 Tbsp. prepared mustard
2 Tbsp. Worcestershire sauce
2 dashes of hot sauce
½ tsp. salt
2 (2 ½- to 3-pound) broiler-fryers, quartered
Directions:
Sauté garlic in butter in a saucepan until tender. Stir in ketchup and next 7 ingredients, and bring to a boil. Remove from heat; reserve 1 cup sauce for basting, and set remaining sauce aside.
Grill chicken, covered with grill lid, over medium-hot coals (350 to 400 degrees) 15 minutes; baste with reserved barbecue sauce. Grill 30 to 40 more minutes or until a meat thermometer inserted in the thickest part of the breast registers 170 degrees, basting every 10 minutes with reserved barbecue sauce. Serve with remaining (non-basting) sauce. Discard any sauce from basting container. Yield: 8 servings.
Notes:  I cooked 6 chicken quarters and the cooking time varied from the recipe, so use the thermometer.  I cooked the 6 chicken quarters for 1.5 hours to reach appropriate doneness, but I was having a hard time keeping the charcoal at a higher temperature.  Also, the sauce is a generous amount.  I had plenty for basting, with enough left for topping the chicken during the meal and to keep for topping the leftovers.
Serve with corn-on-the-cob, fried zucchini, and blueberry muffins (recipes for zucchini and muffins are on this website) for a great summertime meal.  As my father said: "If they made it any better, they kept it for themselves."  That just means it's good.
Enjoy!