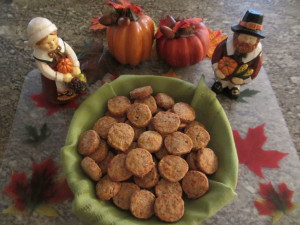 The official name for this recipe lists "Cheese Biscuits," but around my house, they're just called "cheesies."  I usually make them close to Christmas, but I'm posting this recipe early so that you can have them for the entire holiday season.
There is not just one way to put the dough together, and I've tried many different methods.  This is one way to mix the dough and get the desired result.
Cheesies
Ingredients:
2 cups grated sharp cheddar cheese
1 cup plain flour
1 cup chopped nuts (I use pecans)
1 stick butter, softened
1/4 tsp. cayenne pepper
1 tsp. salt
Directions:
Grate the cheese and let it sit out a bit and soften.  Mix the softened cheese and the softened butter until well combined.
Chop the nuts and toast them lightly; let cool.
Whisk together the flour, cayenne pepper and salt.  Add the cooled pecans.
Add the flour mixture to the cheese and butter mixture. Stir until well combined.
Wearing thin food service gloves on your hands, gather a small amount of the mixture and begin to form a ball.  Gradually work with the mixture until all ingredients are combined, then form/roll into a roll about 1 inch in diameter.  Place the roll on wax paper.  Separate the rolls with the wax paper.  Use the same procedure with the rest of the dough and freeze the rolls.
When ready to bake the cheesies, remove the rolls from the freezer and let them sit just a few minutes so that they will cut without crumbling.
Slice the pieces about 1/4 inch thick and place on a cookie sheet lined with parchment paper, about 1 inch apart.
Bake on the center rack of the oven at 375 degrees for 15 – 17 minutes.  Check them at 15 minutes to make sure they are not getting too brown on the bottom.
Remove cheesies from baking sheet and cool on wire racks.  They store best in tins.
Notes:  The type of cheese (medium, sharp or extra-sharp cheddar) can vary as to taste, and can even be a mixture of types.  If you don't want a kick from the cayenne pepper, reduce the amount to 1/8 tsp.  I usually multiply this recipe by three and make a large batch at one time, then bake just what I want.  Put the frozen dough rolls in a plastic bag in the freezer.  The gloves help the mixture to not stick to your hands and make rolling easier.
Enjoy the taste of the cheesies and the terrific cooking aroma!
Stay tuned for the next historical post on November 15th.