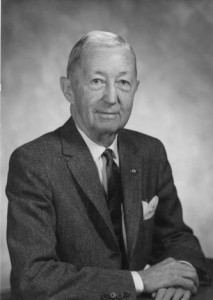 Norman Vaughn Stockton (1889-1972) was born in Winston-Salem to Madison D. and Martha Vaughn Stockton.  He graduated from Winston High School and the University of North Carolina.  After he graduated from college in 1909, Norman decided to pursue a career in the men's clothing business.  He sold clothing while he was in college.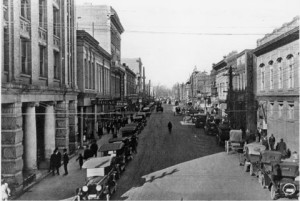 Norman Stockton began his retail business career in the Mock-Bagby-Stockton store on North Trade Street.  The sign advertising the business is barely discernable in the above 1918 photograph, at the left.  This photograph was taken from West Fourth Street, looking north at the 400 block of North Trade Street.  His first business was a partnership with Alonzo Bagby and Jess Mock.  Mr. Mock dropped out of the business and it became Bagby-Stockton.  Then, Stockton bought Bagby's interest in 1925 and the business was incorporated as Norman Stockton, Inc.  Mr. Stockton was recognized in 1932 when he was elected vice-president of the Association of National Retail Clothiers and Furnishers.  According to a 1941 newspaper article about Mr. Stockton, his Trade Street store was the first in the city to have air conditioning.  The business began with three employees, but grew to six employees in 1941.  He introduced items in his store, such as sweaters, modern-style bathing suits, lounging robes, and luggage.  He also carried sports clothing, which was an unknown classification when he began in 1909.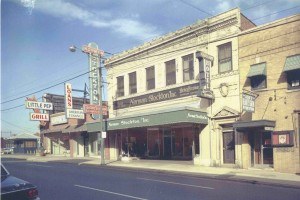 The business moved to the 400 block of Cherry Street in 1947, located across the street from the bus station and the Robert E. Lee Hotel (shown above).  The downtown store closed in 1985 when the Stratford Road store was built.  The two black and white photographs shown below feature the interior of the Norman Stockton store on Cherry Street.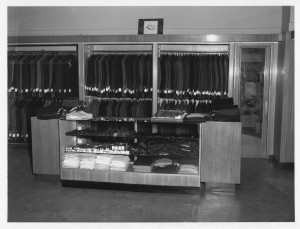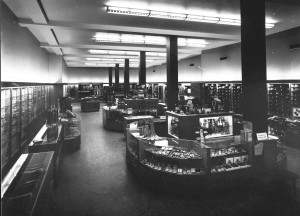 Norman Stockton, Inc. also operated stores at Thruway Shopping Center and Hanes Mall.  The Hanes Mall store closed in 1991.  The business moved across Stratford Road in 1985 to occupy a new building at 249 South Stratford Road.  This business closed in 2010, after 101 years in business.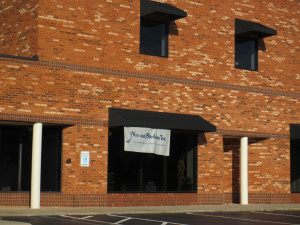 After a five-year hiatus, the business reopened on October 5, 2015, in a smaller section of their former store on South Stratford Road, shown above.  The store is under the management of Hill Stockton, grandson of Norman Stockton and son of former president of the business, Dick Stockton.
Historical images courtesy of Forsyth County Public Library Photograph Collection.
Current photo courtesy of Molly Grogan Rawls.
Stay tuned for the next post on November 10th: November Feast – Cheesies!