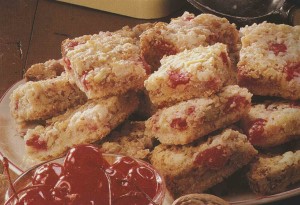 Delicious and festive…what more could you want for a February or Valentine treat?  Well, if I add easy, that should seal the deal!
Ingredients:
Crust:
1 cup all-purpose flour
3 Tbsp. confectioners' sugar
1/2 cup cold butter
Filling:
2 eggs
1 cup sugar
1 tsp. vanilla extract
1/4 cup all-purpose flour
1/2 tsp. baking powder
1/4 tsp. salt
3/4 cup chopped walnuts or pecans
1/2 cup quartered maraschino cherries
1/2 cup flaked coconut
Instructions:
1.  In a bowl, combine flour and confectioners' sugar; cut in butter until crumbly.  Press into a lightly greased 13-in. x 9-in. x 2-in. baking pan.  Bake at 350 degrees or until lightly browned.  Cool in pan on wire rack.
2.  For filling, combine the eggs, sugar, and vanilla in a bowl.  Combine flour, baking powder and salt; add to the egg mixture.  Stir in walnuts or pecans, cherries, and coconut.  Spread over crust.  Bake at 350 degrees 20-25 minutes longer or until firm.  Cool in pan on a wire rack.  Cut into bars.
Yield: 3 dozen bars.
Enjoy!
Stay tuned for the next historical post on February 15th…more about Staley's Restaurants.