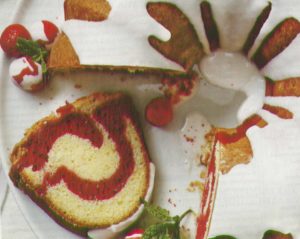 If you're looking for a special sweet and pretty Valentine's dessert, try this recipe for Red Velvet Bundt Cake.  Top the cake with vanilla ice cream or gelato and dessert is served!
Red Velvet Bundt Cake
Ingredients:
1 cup butter, softened
½ cup shortening
2 ½ cups sugar
6 large eggs
3 cups all-purpose flour
1 tsp. baking powder
½ tsp. salt
¾ cup milk
1 tsp. vanilla extract
1 Tbsp. unsweetened cocoa
1 Tbsp. red food coloring
Snowy While Vanilla Glaze
Directions:
Preheat oven to 325 degrees. Beat butter and shortening at medium speed with a heavy-duty electric stand mixer until creamy. Gradually add sugar, beating until light and fluffy.  Add eggs, 1 at a time, beating just until blended after each addition.
Stir together flour and next 2 ingredients. Add to butter mixture alternately with milk, beginning and ending with flour mixture.  Beat at low speed just until blended after each addition. Stir in vanilla. Transfer 2½ cups batter to a 2-qt. bowl; stir in cocoa and food coloring.
Drop 2 scoops of plain batter into a greased and floured 10-inch (16 cup) Bundt pan, using a small cookie scoop (about 1½ inches); top with 1 scoop of red velvet batter. Repeat around entire pan, covering bottom completely. Continue layering batters in pan as directed until all batter is used.
Bake at 325 degrees for 1 hour to 1 hour and 5 minutes or until a long wooden pick inserted in center comes out clean. Cool in pan on wire rack 10 minutes; remove from pan to wire rack, and cool completely (about 1 hour). Drizzle with Snowy White Vanilla Glaze.
Snowy White Vanilla Glaze
Whisk together 2½ cups powdered sugar, 3 Tbsp. plus 1 tsp. milk, and 1 tsp. vanilla extract until smooth.  Makes about 1 cup.
Note: Do not swirl the batter to create a marble look.  The marble look developes as the cake bakes.
This recipe is from Southern Living Magazine.
Enjoy!