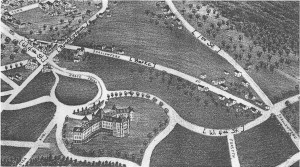 In the 1891 "Bird's Eye View of the Twin-Cities," shown above, Burke Street was called Shallowford Street, an extension of the street that is known today as First Street.
In the foreground of the image shown above, the Zinzendorf Hotel is featured in an almost "heart-shaped" piece of land, with a circular turnaround on one side.  This turnaround brought guests down Fourth Street on the streetcar to the Zinzendorf Hotel from the train depot, then the streetcar headed back down Fourth Street.
In 1891, houses are sparse along the section of Shallowford Street that extended from Brookstown Avenue to Fourth Street.  According to a 1979 Twin City Sentinel article by reporter/editor/historian Bill East, the street was named for the Burk family that owned land in that area.
Andrew Burk lived in the South Fork Township and operated a farm there for several years.  He and his wife, Polly Ader, raised six children.  One son, Henry Franklin Burk (1840-1920), fought in the Civil War, serving in Company K of the Forty-eighth Regiment, North Carolina Troops.  He fought in the battle before Sharpsburg, Maryland, where he was severely wounded and lost his left leg.  After he received medical treatment and was hospitalized several weeks, he was honorably discharged and returned to Forsyth County.
After the war, he bought a farm on the Shallowford Road and worked as a farmer for several years.  After about 18 years, he turned it over to renters and used tenant laborers to farm the land.
Henry worked as jailer for two years, then he and his wife, Eugenia Ann Wagner Burk, ran a boarding house on Liberty Street.  He retired and returned to Burk Street where he lived until his death in 1920.
One of Henry's brothers, John J. Burk (1846-1919), also lived on Burke Street.  He was a farmer and lived there with his wife, Isabelle Rugga Burk.
Although the Sentinel article mentions that Burke Street appeared on a city map as early as the 1880s, it does not appear in the local city directories until 1916.  An "e" was added to the name in the city directories in 1921.
Also, by 1921, there were no Burk family residents listed on Burke Street. But, Henry Burk's daughter and her family (Ellen and John Wesley Harrison) lived in the house next to where her parents lived on Burke Street.
In 1921 Burke Street was predominately residential.  Businesses and churches gradually replaced homes, with a major change taking place after World War II.  The street was widened in 1954, adding to the convenience of shoppers and business-owners.  The last residence left the area about 1969.
Burke Street is unique in that it serves as a connector street between West Fourth Street and West Fourth Street (where Fourth Street curves around and crosses West First Street).  It also crosses Brookstown Avenue.
The 1979 Sentinel article headline, "Busy Little Burke Street," also applies today.  Burke Street packs a lot of businesses with a wide variety of products and services into just a few blocks.
Named for a farming pioneer family, honoring a Confederate Veteran,  Burke Street's humble beginnings bely its impact on the city today.
Stay tuned:  Next post on December 1, 2015.