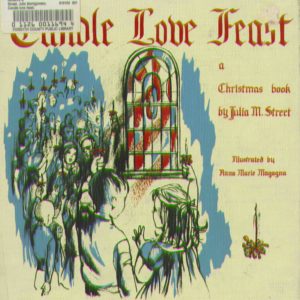 Julia Montgomery Street, a Winston-Salem author, wrote a book in 1959 titled "Candle Love Feast; a Christmas Book."  The book was beautifully illustrated by Anna Marie Magagna.
In the book, Mrs. Street explains "A love feast is simply a service of 'breaking bread together in brotherly love.' Moravian churches everywhere hold love feasts to celebrate many special occasions.  On Christmas Eve, a very special occasion, Moravian children and their parents and friends go to church to celebrate Candle Love Feast in honor of the birthday of Jesus. They eat and drink together, and receive, each one, a small, lighted beeswax candle to remind them that 'Christ is the Light of the World.'"
Mrs. Street tells the story of a family attending the love feast, going through each step of the process of getting ready to go,  singing carols and listening to Christmas music, sharing buns and coffee, raising lighted beeswax candles, to leaving the church after the service.  Anna Marie Magagna illustrates the family attending the love feast in Home Moravian Church.
In Winston-Salem, with our abundance of Moravian Churches, many of us feel that a Christmas Eve Love Feast prepares our hearts for Christmas Day, whatever our religious denomination.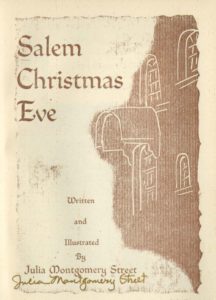 Mrs. Street wrote another Christmas book, titled "Salem Christmas Eve," privately published in 1955 in a limited edition.  The book of poetry was also illustrated by Mrs. Street.
Julia Montgomery Street will be featured in a Twin-City Profile on this website in February.
The images in this post are from Julia Montgomery Street's books, "Candle Love Feast" and "Salem Christmas Eve."
Merry Christmas and Happy New Year from the Winston-Salem Time Traveler!
Stay tuned for the January 1st, 2018 post: Happy New Year! 2018 WSTT Preview.  Find out what you'll see on this website in 2018.