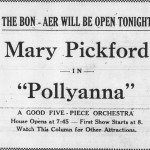 On this day in 1921, the Bon-Aer, Winston-Salem's newest outdoor motion picture house, opened.  The opening bill starred Mary Pickford in "Pollyanna."
The Bon-Aer was located on West Fourth Street, between Cherry and Marshall Streets.  Admission was 25-cents, which included a war tax.  The Bon-Aer catered to men, ladies and children, and promoters promised that nothing the least objectionable would ever be permitted on the screen, and parents could bring the whole family any time with no danger of embarrassment or regret.
The promoters of the new theatre promised the highest class entertainment and the best of surroundings at all times.  Backers of the theatre were committed to clean, wholesome amusement at a sensible price.
The comment was made that the promoters are considering the construction of a modern all-year theatre on this property if the summer theatre business does well.
The "good five-piece orchestra" will "play for every picture, follow every clue, and add not a little to the completeness of the program."
Coming attractions at the Bon-Aer include more Mary Pickford movies, Douglas Fairbanks in "The Mark of Zorro" and others, and Doris Keane in "Romance."