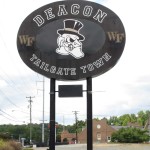 On this day in 2010, the Winston-Salem Journal covered the demolition work that was taking place near the Coliseum.
The Coliseum Shell Service Station and Cactus Jack's Steakhouse and Saloon were being removed from their lots on Cherry-Marshall Expressway.
When the buildings were removed and the debris cleared, the parking lots remained and are used by tailgaters for Wake Forest University sports outings.  The name of the area is "Deacon Tailgate Town."
Current photo by Molly Grogan Rawls.