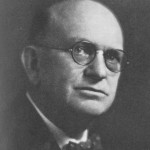 Joseph Eli Alexander was born on this day in 1874, in Tyrrell County, to Dr. Abner and Dora Spruill Alexander.
He attended the Columbia Preparatory School in Tyrrell County, and the Williamston Academy in Martin County, and graduated from the University of North Carolina in 1895.  He studied law, and was admitted to the bar and moved to Winston-Salem in 1896.
Joseph formed a law partnership with A. E. Holton, United States district attorney.  He was secretary to the governor of North Carolina, and obtained the rank of major from his position as a military secretary.  He continued in his law practice with Holton until 1904, then was a partner in the firm of Alexander, Parrish and Korner.  In 1915 he formed his own law practice.  Most of his law practice was before the Federal and State courts.
Major Alexander was very active in the consolidation of the post offices of Winston and Salem in 1898.  He was chairman of the Board of Trade committee that worked out plans for the consolidation of Winston and Salem in 1913.  Before the consolidation, Major Alexander served as town attorney for Salem, as city attorney for Winston, and as county attorney for Forsyth County.
He was married first to Edith Kincaid Butler and second to Lilla Young.
Major Alexander passed away in 1935.
Photo courtesy of Forsyth County Public Library Photograph Collection.