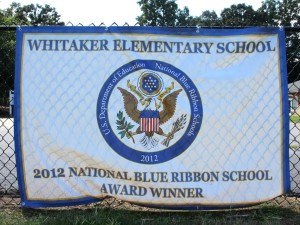 On this day in 2012, Whitaker Elementary School was recognized as a 2012 National Blue Ribbon School.
The school was one of 269 schools in the country, and one of nine in North Carolina, to receive the designation.
The schools were chosen based on their overall academic excellence,  or for making progress in improving student academic achievement levels.
The banner for the award, shown above, is proudly displayed at the school.
Photos by Molly Grogan Rawls.