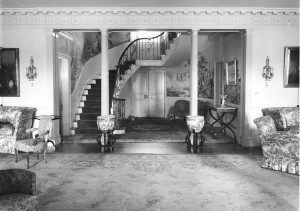 Robert Edward Lasater built a 24-room mansion near Clemmons in 1928.
The house and the 117 surrounding acres were bought on this day in 1960 by the North Carolina Home for the Jewish Aged.  The selling price was approximately $135,000.
The photo shows the interior of the house in 1954.
As of this writing, the house has been refurbished after being used for the Jewish Home for many years, and is for sale.  The surrounding acres have been sold and houses were built on the property.
Photo courtesy of Forsyth County Public Library Photograph Collection.