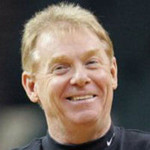 George Edward "Skip" Prosser III was born on this day in 1950, in Pittsburgh.
He attended the U. S. Merchant Marine Academy and graduated with a degree in nautical science.  He received his master's degree in secondary education from West Virginia University.
He was a member of the basketball team in college, but did not play often.  He became a coach when he began teaching, because coaching was part of the job.  His first college coaching position was as assistant to Pete Gillen at Xavier.  He later worked as the head coach at Xavier when Gillen left for Providence.
Prosser was hired as head coach at Wake Forest University in 2001.  At Wake Forest, he won the ACC regular season title in 2002-2003, and was named the ACC coach of the year.  He coached with a lot of passion, and was known as a man who didn't like to lose.
Skip suffered a massive heart attack and passed away in 2007.  At the time of his death, he was the only coach in NCAA history to take three different schools to the NCAA Tournament in his first season at each of those schools.  He became the first rookie coach at Wake Forest since 1927 to post a winning record.