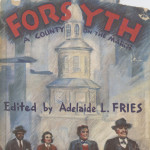 Many events were happening in Winston-Salem in April and May of 1949.  Most of the events centered around the upcoming Forsyth County Centennial Celebration that would take place in May.
A group of six citizens had been working for many month to write a history of Forsyth County.
The book, titled Forsyth: The History of a County on the March, was introduced to the public with a reception on the previous evening.  The reception was sponsored by the Tuesday Morning Book Club of the Woman's Club.
The announcement on this day in 1949 was that books would go on sale to the public tomorrow.
The six authors for the book were: Dr. Adelaide Fries, Mary Wiley, Dr. Douglas Rights, Charles N. Siewers, Harvey Dinkins, and Flora Ann Lee.  Joe King drew the illustrations for the book.
The book was revised in 1976 by a different group of authors.
Shown in the featured photo are: Joe King, Mary Wiley, Dr. Douglas Rights, Dr. Adelaide Fries, and Harvey Dinkins.
Photos courtesy of Forsyth County Public Library Photograph Collection.