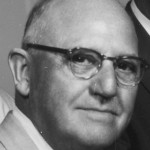 Egbert Lawrence Davis Sr. was born on this day in 1882, in Yadkin County.  He attended the schools in Yadkin County, including the Yadkin Valley Collegiate Institute, and graduated from Wake Forest College School of Law.
He began his business career as a salesman for R. J. Reynolds Tobacco Company, and left that job in 1926.
He had previously founded (with partners) the Security Life and Trust Company, and became a member of the board of director.  Later, he was elected vice president, then president and treasurer.
He had also organized Atlas Supply Company, and he became its first president, then was chairman of the board for 30 years.
He helped found Baptist Hospital and was the first chairman of the board of trustees.  He and his family gave funds to build Davis Chapel at the Baptist Hospital, in memory of his wife, Annie Pearl Davis.  He also helped organize Davis, Inc., the department store.
Mr. Davis was active in many community organizations, such as the Arts Council, Community Chest, Chamber of Commerce, and the First Baptist Church.
His home was on Reynolda Road, at Polo Road, named "Sunnynoll."
He passed away in 1974.
Photo courtesy of Forsyth County Public Library Photograph Collection.