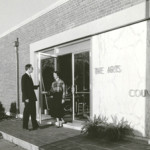 Winston-Salem sponsored the first regional arts council workshop when approximately 60 delegates from North Carolina and several southeastern states came for the one-day round of discussions on arts council organization, financing and programming.
Winston-Salem has the oldest arts council in existence and the only council where fund raising, programming and facilities are combined.  The arts council workshop is also a first.
The photo above shows the new home of the Arts Council at the Hanes Community Center in 1958.
Photo courtesy of Forsyth County Public Library Photograph Collection.